Features
Newest version! (2023.11)
Heats up in just 30 seconds
Easy-to-clean ceramic chamber
Quality glass mouthpiece
Portable
USB chargeable
Who is the Smono 4 for?
Smono 4 is simplistic and super easy to operate which makes it a great vaporizer choice for beginners. It's able to provide high quality vapour clouds guaranteed to taste great and the combination of an adjustable air flow and sturdy glass mouthpiece ensure a top vaping experience every time.
Portable
If you hate the feeling of being stuck inside to enjoy a vaping session, you will appreciate the portable nature of the Smono 4. It's compact, with measurements of just 11.8 × 5.5 × 2.6 cm which means this vaporizer will easily fit into most medium-sized pockets or bags with no issues. Because it's lightweight and has a battery lasting 8-10 sessions it's perfect to bring along when you are heading out.
Impressive Battery
Smono 4 features a built-in rechargeable 2300 mAh battery which strength and longevity of is almost unmatched. It's able to provide enough power to withstand up to 10 full vaping sessions and thereafter the battery can fully charge in just 1.5 hours. The only potential downside is that this vaporizer isn't usable whilst charging, but for those who plan their sessions and take charging time into account this won't be a problem.
Pre-Set Temperature Settings
Featuring 8 pre-set temperature levels, you'll never find yourself constantly having to press buttons to achieve your desired temperature. Available in increments of 10°C ranging from 160°C to 230°C, that you will easily see on the OLED display accurately shows which temperature setting the Smono 4 is at and what temperature it's going to. The heating process takes just 30 seconds!
Unique Heating Style
Smono 4 has an impressive system of heated and adjustable air flow that distributes heat through your herbs in the easy to clean ceramic chamber. This means the premium taste is preserved and the vapour far gentler than the one from many other vaporizers out there, regardless of which temperature setting you choose.
Maximum Safety
If you've ever found yourself slowly drifting off to sleep during a session while your vape is still heated then you will appreciate the auto shut-off feature of the Smono 4. After just 4 minutes of no activity, the vaporizer will begin to shut down and will signal it's shutting off with a short vibration.
This auto shut-off feature is not only great for ensuring maximum safety but will also conserve battery life.
Warranty
The Smono 4 comes with a ten-year manufacturer's warranty, restricted to normal use.
User Manual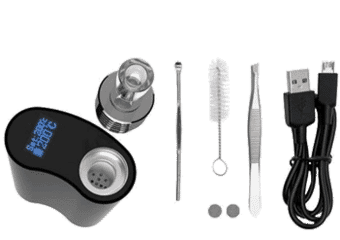 In the Box
Smono 4 vaporizer
Cleaning brush
Tweezers
Stirring tool
USB cable
Instruction manual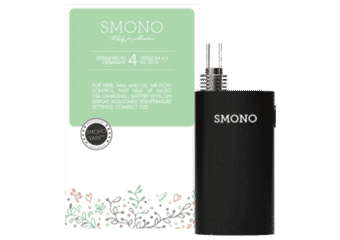 Specifications
More Information

| | |
| --- | --- |
| Size: | 5.5 × 2.6 × 11.8 cm |
| Weight: | 150 g |
| Heating: | Hybrid (Convection+Conduction) |
| Heat-up time: | 30 seconds |
| Power source: | Battery (2300 mAh) |
| Temperature: | 160°C to 230°C |
| Manufacturer: | Smono |
| Warranty: | 10 years |
| Country of manufacture: | China |
Smono 3

Heats up in under 35 seconds
Closed convection heating system
45 minutes of battery life

Smono 5

Patented convection heating
Replaceable battery (3000 mAh)
Display with colour and animations
Write your own review about Smono 4