Tinymight 2 features
Newest version (2023.11)
100% convection heating
Heats up in just seconds
On-demand and session mode
Adjustable chamber size
Wide temperature range (140°C to 250°C)
Quick-charge via USB-C
Powered by a replaceable 18650 Li-ion battery
Made in Finland with high quality materials
Includes a free dosing capsule when purchased from MagicVaporizers
Who is the Tinymight 2 for?
The Tinymight 2 is a portable convection vaporizer for dry herbs and concentrates. It's designed for vaping anywhere you go and delivers flavourful vapour in just seconds thanks to the powerful convection heater.
If you want to upgrade to a vape that produces cloudy vapour and has a true on-demand mode, you should consider Tinymight 2 as your next vape. It's easy to use and offers not only on-demand mode but also session mode which gives you the flexibility to choose how you want to vape.
100% convection heating
The Tinymight 2 is designed to deliver vapour in less than ten seconds with its custom-built 70W stainless steel heater. The heating system uses 100% convection heating, which evenly heats the material and results in the purest vapour.
The convection heating system in the Tinymight 2 is further enhanced by the addition of a new heat spreader. This feature helps to distribute the heat better, resulting in a more efficient extraction process so you can get the most out of your herbs or concentrates.
A true on-demand vaporizer
While most vaporizers only have one mode of operation, the Tinymight 2 has two: on-demand and session mode. On-demand mode is perfect for those who like to take their time and savour each inhalation, while session mode is ideal for those who prefer to enjoy several inhalations in a row without having to constantly press the button.
On-demand mode turns the heater on to a low temperature that's easy to maintain until you push the button. Once you push it, you typically won't hold the button in for more than five seconds before it vibrates and is ready to go. Enjoy the vapour and when you're done, let go of the button.
Session mode works by keeping the chamber at the set temperature for the duration of the session. Click the button three times and then hold it in until it stops vibrating, then inhale two or three times until the vapour thins. If you plan on taking a longer break between inhalations, just turn it off and restart it when you are ready for more.
Adjustable chamber size
With the Tinymight 2, you can adjust the chamber size to your liking as the cooling chamber slides up and down to change the size of it. The choice is yours whether you want to have it at maximum capacity (0.2 g herb) or have it set at less capacity for smaller doses and microdosing.
Ready to be used with dosing capsules
If you're looking for an easy way to microdose, or simply want to keep the chamber cleaner you should consider using a dosing capsule. These capsules are designed specifically for the Tinymight 2 and allow you to enjoy your vaping sessions without having to worry about the hassle of cleaning.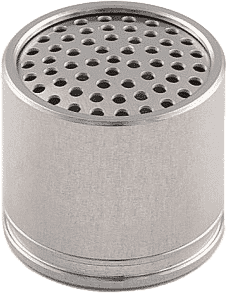 Simply fill the capsule with your desired material and put it into the chamber. Not only does this make loading the Tinymight 2 quick, but it also means you can prepare another dose for those times you're going somewhere and more than one load would be nice to bring.
One dosing capsule is included for free when you purchase your Tinymight 2 from MagicVaporizers.
Wide temperature range (140°C to 250°C)
The Tinymight 2 has a precision-controlled temperature range between 140°C and 250°C that you set by turning the analogue temperature dial on the bottom of the unit. With its wide temperature range, you'll have plenty of room to experiment and find which temperature works best for you.
Includes a multi-functional tool
The handy multi-functional tool that comes with the Tinymight 2 is right at your fingertips, located on top of the device for easy access during sessions. This tool can be used for stirring the bowl mid-session and it is also long enough to adjust the size of the loading chamber, allowing you to switch between small and large loads with ease.
Fast charging with USB-C
The Tinymight 2 is equipped with a USB-C charging port and is quick-charge capable. It can be charged in under an hour with a rapid charger (not included), so you'll be back to vaping in no time no matter where you are.
When you turn on the unit, it vibrates one to four times depending on the charge of the battery. There is also an indicator light next to the charge port that changes from green to red as the battery drains. This helps you keep track of when you need to charge your device, so you can enjoy your sessions without any interruptions.
Replaceable 18650 battery
As the Tinymight 2 is powered by a replaceable 18650 battery, you won't even have to pause your vaping session if the battery is drained. Simply pop in a fresh battery and you're back to vaping in no time!
In case you want to use another 18650 battery than the included one, please note that it needs to be of high quality with a minimum of 20A current.
Built to last
As expected from a vape manufactured in Finland, the Tinymight 2 is made with exclusively premium materials. Its body is crafted from American walnut wood known for its insulating qualities and smooth structure, which means it has a cool and comfortable grip.
The rest of the device is made with other durable materials like stainless steel, aluminium, and quartz glass, ensuring you'll enjoy its premium performance for years to come.
How to use the Tinymight 2
Here is how you use the Tinymight 2 in on-demand mode:
While holding the unit upside-down, remove the mouthpiece.
Add your material to the opposite end of the mouthpiece. Put the mouthpiece back in while still holding the unit upside-down.
Dial in your desired temp on the bottom of the unit. For lighter vapour, aim for 3-5, but for bigger clouds, go for 7-9.
Give the button a quick triple-click to turn the device on. Wait a few seconds.
The Tinymight 2 is now ready to heat your herbs. Start the increased heating by holding down the button and wait until you feel a vibration.
Inhale from the mouthpiece while keeping the button pressed.
Once you're satisfied, let go of the button but keep inhaling to get all the vapour from the air path.
Enjoy!
When you're done, give the button a quick triple-click to turn it off, or keep repeating from step 5 until your herbs turn light brown and stop producing vapour.
How to set the temperature?
Turn the dial on the bottom of the device to a number that corresponds to the temperature you wish to use. Note that on the highest setting (10) the temperature is different depending on the mode used.
Locked device
140°C
150°C
160°C
170°C
180°C
190°C
200°C
210°C
220°C
230°C / 250°C (session mode / on-demand mode)
How to clean the Tinymight 2
Cleaning the Tinymight 2 is easy as the glass tube, the cooling unit, and the stainless steel filters are the only parts that will need regular cleaning. They can be rinsed with hot water and soap or soaked in a solvent such as isopropyl alcohol.
Warranty
All Tinymight 2 vaporizers sold by MagicVaporizers, an authorised distributor of Tinymight products, are authentic and backed by a 10-year warranty after registering the device on tinymightvape.com, restricted to normal use.
User Manual
In the Box
Tinymight 2 vaporizer
Dosing capsule*
Glass mouthpiece (55 mm)
Titanium mouthpiece (80 mm)
18650 battery
USB-C charging cable
Screens
O-rings
Storage pouch
Instruction manual
* Includes a free dosing capsule when purchased from MagicVaporizers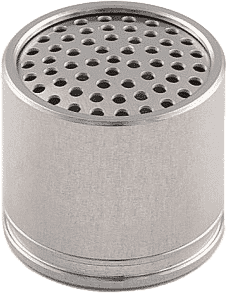 Specifications
More Information

| | |
| --- | --- |
| Size: | 6.1 × 3.7 × 8.8 cm |
| Weight: | 186 g |
| Heating: | Convection |
| Heat-up time: | Less than 10 seconds |
| Power source: | 18650 battery |
| Temperature: | 140°C to 250°C |
| Manufacturer: | Tinymight |
| Warranty: | 10 years |
| Country of manufacture: | Finland |
Write your own review about Tinymight 2