What makes Storz and Bickel better?
Storz & Bickel vaporizers have a well-deserved reputation for being among the best in the business. They are always innovating with vapes that will set the standard for the rest of the industry for years to come. It's hard to believe that Storz and Bickel only have developed a few vaporizers since their start in 1996, but their designs are so durable and innovative that others have copied them even decades later. Despite their premium price, these vaporizers are well worth the money.
The Volcano Experience
You can tell just by looking at a Volcano vaporizer that you are going to have an amazing experience. Instead of taking the conventional route, they gave their product a rugged, heavy-duty design that screams "power". As soon as you use the device, you will understand why it is designed as it is. Your hits will be thick and potent with a smoothness that you haven't tasted before.
It is available in two models, The Volcano Classic and The Volcano Hybrid. Both of them are fantastic desktop models that function well as centrepieces on their own. Set the Volcano on the coffee table, get out one of the Volcano balloons, fill the balloon with vapour, and pass the balloon around for effortless vapour inhalations.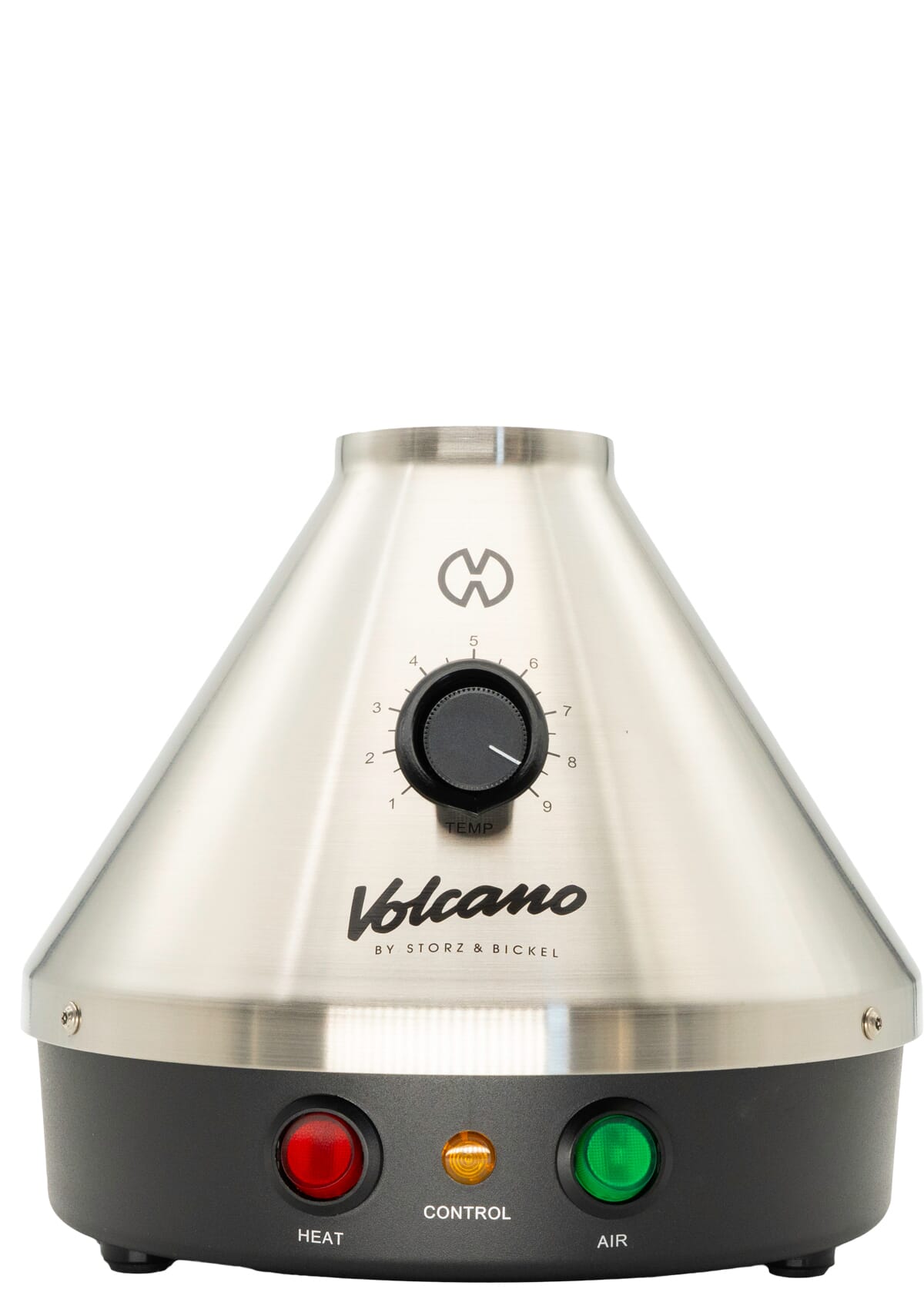 The Volcano Classic, the first vaporizer from Storz & Bickel, is known for its consistency, reliability, and durability. Many vapour enthusiasts have been using it for almost two decades to blow up delicious bags of vapour and for some, this is the only vaporizer they ever purchase.
Don't get too nostalgic though, a new and improved version is now available: the Volcano Hybrid. Although the new model resembles the previous model, the controls and LED touch display have been improved for an improved aesthetic. Additionally, the Volcano Hybrid is much faster to heat up. You and your fellow vapers will only need to wait 1–2 minutes for the balloon to fill with vapour. Storz & Bickel also listened to user feedback and added the capability of inhaling vapour directly through the new tube system.
Volcano Hybrid's biggest improvement is its integration with smartphones. With the S&B Web app, users can control the device and create their own custom sessions to be re-used over and over. What more could you ever need from a stationary vaporizer?
Plenty of Power
Storz & Bickel's first "portable" vaporizer was the Plenty vaporizer. Even though it may be called portable, it isn't pocket-sized due to being 30 cm high. Although, it is certainly a great addition to your living room sessions, as it produces super thick and flavourful vapour from a unit that can easily be passed around in a circle of friends.
Including the temperature display, this vaporizer is completely mechanical, increasing its durability. The Plenty might seem intimidating at first, but with the easy-to-understand quick-start guide, you will be able to begin vaping just a few minutes after receiving it.