Mighty Vape Features
New UK version with 20% better battery (2023.11)
The most powerful portable vape
Easy to use
Pure vapour of the highest quality
Stylish and durable
Precise temperature control (40-210°C)
Who is the Storz & Bickel Mighty for?
The perfect choice for those seeking a top-quality, no frills vaporizer that guarantees premium results every time, the Mighty Vaporizer is a real force to be reckoned with. Super easy to operate and offering premium vapour at all times with its innovative dual heating method, the Mighty Vaporizer is a great choice if you value both quality and performance when vaping.
Whilst a little too large to fit into most pockets, this vaporizer can easily be carried in a bag or purse making it suitable for both on-the-go and at-home use. The only disadvantage of it is the high price compared to other portable vapes, but If you value both quality and performance, you will quickly understand why Mighty is priced relatively high.
Full Temperature Control
Unlike many other vaporizers on the market only offering specific pre-set temperatures for you to choose from, the Mighty Vaporizer provides full control. Allowing you to select any temperature between 40°C and 210°C, the power is solely in your hands. And due to the simplistic plus and minus arrow buttons on its surface, changing this device's temperature couldn't be easier – especially useful for beginners.  
Impressive Battery Power
Powered by two built-in lithium batteries, the Mighty Vaporizer by Storz & Bickel can provide up to 120 minutes of continuous vaping from just one charging cycle. And when the batteries need to be charged, you can still use this vaporizer with the power adapter provided whilst charging is taking place.
Conduction & Convection Heating
Able to provide continuous high performance to ensure the best quality vapour possible, the Mighty Vaporizer utilizes two impressive heating methods to produce results. Generating heated air to provide constant heat during the evaporation stage for optimum temperature maintenance, its radiation heat guarantees instant quality vapour from the outset.
Never leaving you waiting multiple breaths for top quality, great tasting vapour to be produced, the Mighty Vaporizer guarantees premium performance throughout your entire session.
Automatic Switch Off
Specifically in place to conserve battery life but also maintain maximum safety for yourself and other users, the Mighty vaporizer's automatic switch off feature is a definite bonus. With the ability to switch itself off after two minutes of activity, if you find yourself slowly dozing off you won't have to force yourself away to turn off the device.
Better still, the activation of the automatic switch-off function is indication by a brief vibration, meaning you'll always be notified if the Mighty is deactivating its power. In addition to your safety, this nifty feature also successfully conserves battery life, meaning you can vape for longer without resorting to the power adapter.
Easy to Use
Whilst the Mighty's impressive performance level makes it a great choice for experienced vaping enthusiasts, its easy operation is also suitable for beginners too. Featuring just two buttons resembling a plus and minus arrow, altering temperature and controlling this device requires no complex mechanisms whatsoever. And with a handy central LED display to provide accurate temperature readings and battery status, you'll always be in-the-know about how the Mighty Vaporizer is performing.
Warranty
All Mighty Vaporizers sold by MagicVaporizers, an authorised distributor of Storz & Bickel products, are authentic and backed by a 2-year warranty, restricted to normal use.
User Manual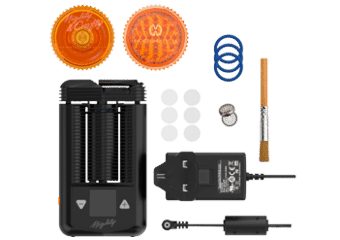 In the Box
Mighty vaporizer
Power adapter with UK plug
Normal screens (small) (3)
Coarse screens (small) (3)
Cleaning brush
Plastic grinder
Filling tool
Seal rings
Dosing capsule
Instruction manual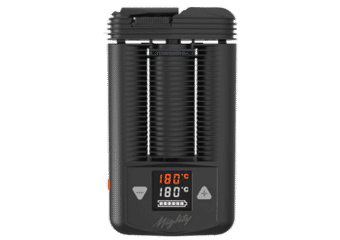 Specifications
More Information

| | |
| --- | --- |
| Size: | 8.0 × 3.0 × 14.0 cm |
| Weight: | 230 g |
| Heating: | Hybrid (Convection+Conduction) |
| Heat-up time: | 90 seconds |
| Power source: | Battery (2 x 3300 mAh) |
| Temperature: | 40°C to 210°C |
| Manufacturer: | Storz & Bickel |
| Warranty: | 2 years |
| Country of manufacture: | Germany |
Plenty Vaporizer UK

Unique cooling steel coil
Top-quality, durable materials
Extra-wide chamber for group sessions