Features
Newest version (2023.11) with the improved cooling unit
Halogen heating
Glass ball technology
Durable and aesthetic with a walnut body
Glass mouthpiece and stainless-steel herb chamber (0.25g)
90-second heat-up time
Easy temperature control with 5 settings (180, 190, 200, 210, 220°C)
Boost mode to increase the temperature by 10°C
Dosing capsules included for quicker reloads
USB-C charging
Includes two Molicel 18650 batteries (2800 mAh) when purchased from MagicVaporizers
Who is the Angus vaporizer for?
The Angus is an innovative vaporizer that features a halogen heating system and glass ball technology to provide a new kind of vaping experience. A halogen light bulb is used for heating air which then passes through glass balls into the chamber where it turns your herbs into vapour before reaching the glass mouthpiece at the top.
Whether you are an experienced user or a beginner, you will find that the Angus is easy to use and capable of producing tasty vapour in just 90 seconds. Its combination of unique heating technology and quality build make it a top choice for anyone looking for a portable premium vaporizer.
Innovative halogen heating system
The halogen heating system used in the Angus is a unique method for heating dry herbs to vaporization temperatures. Unlike other heating systems that use coils or ceramic elements, the Angus vaporizer utilizes a halogen light bulb as the heat source. This bulb, when powered on, emits heat and light, which is then absorbed by the glass balls beneath the chamber of herbs.
When you inhale, the heated air first passes through the glass balls and then the herbs to generate vapour. The combination of the convection heat from the halogen bulb and the radiation heat from the glass balls produces a vapour that is consistent and flavourful.
What sets the Halogen heating system apart from other heating methods is its unique flavour profile. The halogen bulb imparts a subtle flavour that is not as strong or noticeable as it is in other vaporizers and this allows users to taste the full and natural flavour of their herbs.
Easy temperature control
The Angus vape offers a range of temperature control options to help you get the perfect vaporization experience. With five temperature settings ranging from 180°C to 220°C, you can choose the temperature that works best for your herbs. 
For those who want higher temperatures (up to 230°C), there is a boost mode that allows you to increase the temperature by 10°C with just the touch of a button. Simply hold the button down and the unit will vibrate once to indicate that the temperature has been boosted. This boost mode is perfect for when you want to get your herbs fully extracted.
Design and durability
The Angus vaporizer boasts a stunning walnut body that not only adds to its aesthetic appeal but also offers a comfortable grip. The body is crafted to last and its sturdy construction ensures that it can withstand daily use.
To further enhance its durability, the Angus has undergone rigorous drop testing and has proven to be able to survive multiple drops from a height of 1.5 meters with only replaceable parts, such as the glass mouthpiece, needing to be replaced.
Chamber size and microdosing
Even though the Angus vaporizer is compact it still has a spacious stainless steel herb chamber with a 0.25 g capacity that easily can be kept clean with the included tweezer. 
With fully charged batteries, you can expect to vaporize approximately 2 g of your favourite herbs during 8 sessions if you fill the chamber every time. If you want to make reloading even quicker, use the included dosing capsules (2) to prepare ahead of time.
For those who prefer to microdose with their herbs, the Angus provides plenty of convection heating to do so without the need for any temperature adjustments. Simply put less herbs in the chamber and use it as normal for a lower dose experience.
Improved cooling system
The Angus vaporizer has been upgraded with a new cooling system, now featuring a stainless steel screen and a centrepiece made of high-quality stainless steel.
The cooling unit has also been improved with PEEK material, offering better durability and protection against melting. This updated design addresses the issues of lower-quality PPSU material used in the previous cooling unit, ensuring safer vaping.
Quick heat-up time
With an approximate 90-second initial pre-heat time, it is recommended to turn on the vaporizer and select your desired temperature before loading it to minimise wait times. Subsequent sessions will heat up faster due to the retained heat.
Powered by 18650 batteries
The Angus vaporizer is powered by two 18650 batteries. Depending on your usage and temperature setting, you can expect to get anywhere from 7-10 full sessions before the batteries need to be recharged. The exact number of sessions will depend on factors such as the frequency of use and the amount of heat retained between sessions.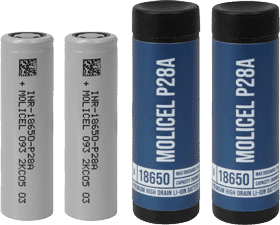 Two powerful 18650 batteries (2800 mAh) from Molicel are included for free when you purchase your Angus from MagicVaporizers.
Adjustable airflow
With the Angus vaporizer, users can customize the airflow to their preferences. To adjust it, simply rotate the metal screen dial located in the mouthpiece.
5-minute sessions
Designed for use as a session vape, the Angus features a 5-minute shut-off timer. If you are short on time you can still get a great session with just a few large inhales on the max settings. Whether you prefer long sessions or going all in, the Angus delivers satisfying results.
Carry case included
The Angus also comes with a sleek and stylish carry case that makes it incredibly easy to transport your vaporizer wherever you go. The case is made of high-quality materials and provides ample protection against any potential damage. This carry case not only adds an extra level of convenience but also makes it easy to keep your vaporizer in a safe and secure place.
Can be upgraded
Want even cooler vapour? The Angus vaporizer has a water pipe adapter available for add-on purchase which can take your vaping experience to the next level. The adapter allows you to connect it to your favourite water tool (the adapter fits 18 mm and 14 mm female connections) to let the vapour be cooled down as it passes through water which makes it smoother and more comfortable to inhale.
How to use the Angus vaporizer
Even without a display, the Angus is still very easy to use:
Turn the Angus on by clicking the button three times.
Either fill the herb chamber before turning it on or fill it with your herb of choice now.
Wait for approximately 90 seconds for the Angus to heat up. The haptic feedback will vibrate when the set temperature is reached.
Enjoy the delicious vapour!
...or change the temperature by pressing the button to cycle through the five temperature settings: 180, 190, 200, 210, and 220°C.
Once the desired temperature is reached you can hold down the button for a 10°C degree temperature boost. The Angus will vibrate to indicate the temperature has been boosted.
Once you're done, either click the button three times again or wait for the session timer to run out (5 minutes).
Warranty
All Angus vaporizers sold by MagicVaporizers, an authorised distributor of YLL Vape products, are authentic and backed by a 1-year warranty, restricted to normal use.
User Manual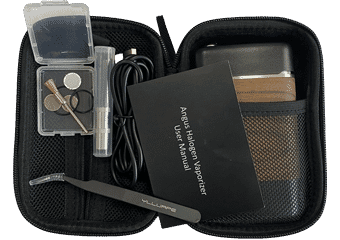 In the Box
Angus vaporizer
Glass mouthpiece
Carrying case
Cleaning brush
USB-C charging cable
Tweezer
Dosing capsules (2)
Silicone O-rings (2)
Filter screens (3)
User manual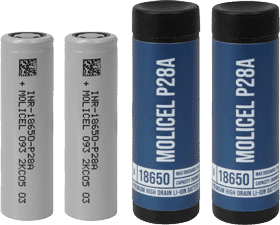 Only at MagicVaporizers: We include two powerful Molicel 18650 batteries (2800 mAh) with every Angus vaporizer purchase!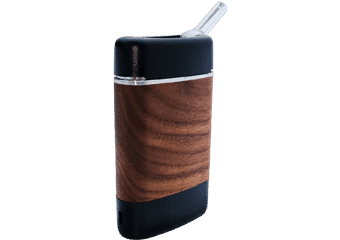 Specifications
More Information

| | |
| --- | --- |
| Size: | 7.6 × 3.1 × 13.3 cm |
| Weight: | 260 g |
| Heating: | Halogen |
| Heat-up time: | 5 seconds |
| Power source: | Batteries (2 × 18650) |
| Temperature: | 180°C to 230°C |
| Manufacturer: | YLL Vape |
| Warranty: | 1 year |
| Country of manufacture: | China |
Write your own review about Angus Vaporizer