Wolkenkraft ÄRiS Ultra Features
Newest upgraded version! (2023.11)
Convection heating
Easy to clean patented air path
Titanium chamber
Precise temperature settings (100-220°C)
Large OLED dual display
Fast heat-up time (under 30 sec)
Upgraded session timer
Haptic feedback
Rubber coating for improved grip
35% faster charging time than ÄRiS
The Wolkenkraft ÄRiS Ultra is the 8th generation of Wolkenkraft vaporizers and the 2nd generation of the highly popular ÄRiS model. It provides significant improvements whilst keeping the core benefits of the original ÄRiS.
Who is Wolkenkraft ÄRiS Ultra for?
The ÄRiS Ultra combines the latest technology with outstanding quality and a fresh design. It's easy to use and great for bringing with you thanks to its portability and the two included dosing capsules.
We think the ÄRiS Ultra is perfect for both new and experienced users looking for affordability and convenience without compromising on vapour quality.
Wolkenkraft ÄRiS vs ÄRiS Ultra
The major upgrades with the ÄRiS Ultra include:
Titanium chamber for cooler, purer and more flavourful vapour
Extended 100-220°C temperature range
Faster charging via USB-C (up to 35% quicker)
Pass-through charging capability
Rubber coating for better grip
Exclusive capsule caddy with two dosage capsules included
5 year extended manufacturer's warranty
Top vapour quality
The ÄRiS Ultra produces extremely pure, smooth, and flavourful vapour thanks to the efficient convection heating system in combination with the new titanium chamber.
Innovative ECA technology
The patented air path system allows you to fully detach and look through the air path for the easiest cleaning ever.
Fast heat-up
The ÄRiS Ultra heats up rapidly to vaporization temperatures in under 30 seconds so you can start enjoying vapour almost immediately.
Dual OLED display
The crystal clear dual display shows temperature, battery level, and timer info all at the same time so you always know what's happening.
Precise temperature control
You can precisely control the temperature from 100-220°C to customise your sessions. Lower temps produce smooth, flavourful vapour while higher temps maximise effects.
Upgraded session timer
The improved timer allows minute-by-minute adjustment from 3-7 minutes before auto shutoff. When the session timer expires the ÄRiS Ultra will automatically shut down for safety reasons and to conserve battery.
USB-C charging
The included USB-C cable enables fast charging, up to 35% quicker than the original ÄRiS. The ÄRiS Ultra can even be used while charging via the convenient pass-through capability.
High quality materials
The ÄRiS Ultra uses only premium materials like titanium and thick pyrex glass to ensure pure flavour and durability. New for the Ultra version is also the gold-plated mouthpiece ring that makes it look more luxurious.
Compact size
Despite upgraded components and technology, the ÄRiS Ultra retains an ultra-compact size for portability and discretion. Measuring just 10.2 cm tall, 5.3 cm wide, and 2.6 cm deep, the ÄRiS Ultra fits easily in your pocket or bag.
How to use the Wolkenkraft ÄRiS Ultra
Grind dried herbs finely and fill the chamber.
Attach the mouthpiece to the device.
Press the power button 5 times rapidly to turn it on.
Set the desired temperature with + and - buttons.
Wait for the ÄRiS Ultra to heat up and vibrate when ready.
Inhale slowly through mouthpiece, like you're sipping a hot beverage.
When finished, press power button 5 times to turn off or wait for the session timer to expire.
Clean chamber after each use with the included tools.
Recharge battery as needed via USB-C cable.
Recommended accessories
Elevate your vaping experience and enjoy smoother, cooler vapour by adding the Bubbler attachment. This easy to use glass accessory connects to the mouthpiece and filters the vapour through water, which both filters and cools it for a pure and flavourful session.
The ÄRiS Ultra includes two dosing capsules, but we recommend getting more to keep your chamber clean and get the most from your herbs. These small metal capsules let you pre-fill materials for quick swapping between sessions. More capsules also mean fewer cleanings and more cleaned capsules per time.
Warranty
The Wolkenkraft ÄRiS Ultra comes with a 5 year limited warranty (excluding normal wear and tear) when purchased from an authorised Wolkenkraft retailer like MagicVaporizers.
User Manual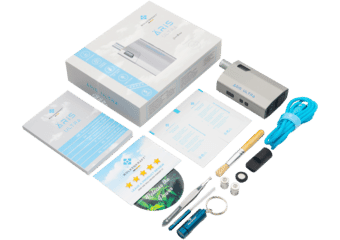 In the Box
Wolkenkraft ÄRiS Ultra vaporizer
Dust cap
Seal ring with screen
Capsule container
Stirring tool
Dosing capsules (2)
Cleaning brushes (2)
Alcohol wipes (2)
Tweezers
USB-C charging cable
Instruction manual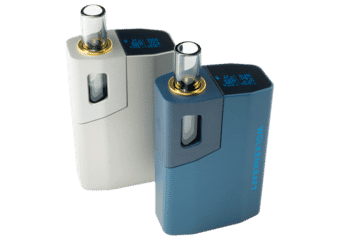 Specifications
More Information

| | |
| --- | --- |
| Size: | 5.3 × 2.6 × 10.2 cm |
| Weight: | 133 g |
| Heating: | Convection |
| Heat-up time: | 25 seconds |
| Power source: | Battery (2600 mAh) |
| Temperature: | 100 to 220°C |
| Manufacturer: | Wolkenkraft |
| Warranty: | 5 years |
Wolkenkraft ÄRiS

Strong 2300 mAh battery
Innovative air path
Precise temperature from 160 to 221°C

Wolkenkraft FX Mini

Discreet and lightweight
Convection heating up to 221°C
For both herbs and concentrates