Features
Newest version! (2023.11)
Compatible with dry herbs, waxes & oils
Fast warm-up time
Easy to use
Digital temperature control
Impressive battery life
Top-quality materials
Who is the Flowermate V5.0S Pro V2 for?
The perfect choice for those seeking a long-lasting yet discreet portable vaporizer, the upgraded Flowermate V5.0S Pro V2 is guaranteed to impress. Resembling a cell phone and certain to slot perfectly into the palm of your hand, the fold-away mouthpiece makes this vape super easy to carry around and store in your pocket or bag. Also boasting hugely impressive battery life and full temperature control, the simple usability of this vape makes for a quick and easy experience every time.
3 in 1
The Flowermate V5.0S Pro V2 is hugely versatile. Allowing you to effectively vaporize dry herbs, waxes and oils with ease, this vape comes complete with both a herb capsule and concentrate capsule. Easy interchangeable and giving you the power to have full control over the materials you vaporize, the Flowermate V5.0S Pro V2 offers greater versatility than many other portable vapes.
Long-Lasting Battery 
Unlike many other portable vaporizers offering a somewhat disappointing battery life before needed to be re-charged, the Flowermate V5.0S Pro V2 is a complete breath of fresh air. Allowing you to experience longer sessions without having to break for charging purposes, this vape's pair of built-in 2600 mAh batteries offer a huge 2.5 - 3 hours of continuous vaping from a full charge. It's rare to find another vaporizer that can match this in terms of longevity and affordability, making the Flowermate V5.0S Pro V2 is a brilliant choice if you value battery lasting power for the best possible price.
Easy to Use 
The Flowermate V5.0S Pro V2 has been specifically designed with ease of use in mind, making it a great option for beginners or those who dislike complex operation. Complete with convenient plus & minus buttons for complete temperature control and a handy OLED display to provide accurate temperature and battery readings at all times, no intensive learning curve is required to use this vape.
Top Quality Vapour
Featuring a fully isolated air path, all vapour produced by the Flowermate V5.0S Pro V2 is pure and flavourful – guaranteed to feel satisfying and taste great every time. All vapour created instantly bypasses all electrical components of this device, meaning your vapour will never be tainted by unwanted metallic tastes or impurities.
Fast Heating Time
Hailed as the fastest-heating Flowermate vape ever made, the V5.0S Pro V2 can reach maximum temperature in just 30 seconds. Offering an impressive selection of temperatures ranging from 40°C to 230°C, you can choose any setting you desire based on your session preferences. Regardless of which temperature you choose, the Flowermate V5.0S Pro V2 will still maintain its fast 30 second heat-up time, meaning you'll never be left aimlessly waiting around for your device to start producing quality vapour.
Warranty
All Flowermate units purchased from MagicVaporizers come with a 2-year warranty (6-month for batteries), restricted to normal use.
User Manual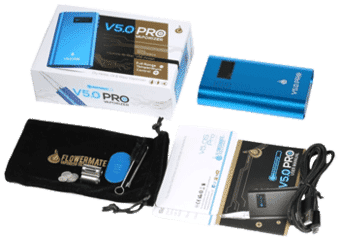 In the Box
Flowermate V5.0S Pro V2 vaporizer
Glass mouthpiece
USB rapid charger cable
Herb capsule
Concentrate capsule
Cleaning tool
Packing tool
Stainless steel screens (5)
Instruction manual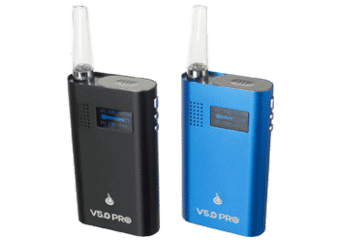 Specifications
More Information

| | |
| --- | --- |
| Size: | 6.3 × 1.9 × 10.1 cm |
| Weight: | 140 g |
| Heating: | Conduction |
| Heat-up time: | 30 seconds |
| Power source: | Battery (2 × 2600 mAh) |
| Temperature: | 40°C to 230°C |
| Manufacturer: | Flowermate |
| Warranty: | 2 years |
| Country of manufacture: | China |
Flowermate Aura

Pen-shaped and discreet
2 hours of battery life
Very easy to use

Flowermate Stylo

Large oven size (0.5 g)
3000 mAh battery
Full temperature range (150°C to 230°C)

Flowermate V5 Nano

Digital temperature control up to 230°C
2500 mAh swappable battery
OLED screen and haptic feedback
Write your own review about Flowermate V5.0S Pro V2