Features
Newest version! (2023.11)
Pure convection heating technology
Fast heat-up time (30 sec.)
Session timer
Bright OLED-display
Precise temperature control (160 to 221°C)
Can vaporize herbs, wax and oil
Discreet, lightweight design (136 g)
Who is Wolkenkraft FX Mini for?
The Wolkenkraft FX Mini an affordable, ultra-portable convection vaporizer with great performance designed in Germany. It's small, packs plenty of power and is full of features, but still performs reliably. The FX Mini is the perfect vape for those who want to experience true convection heating, and a solid, low-cost option for anyone serious about vaporizing.
Pure and tasty vapour
The Wolkenkraft FX Mini convection heating system fully extracts the chamber in just a few minutes. As no material touches the heating elements, there is no combustion, instead only the air heats up the material which ensures only pure and flavourful vapour is generated. The air path is sealed from the electronics, with an open airflow for comfortable draws.
Ultra-portable
The Wolkenkraft FX Mini isn't just small - it's one of the smallest vapes in our selection, measuring in at 5.1 × 7.6 × 2.5 cm and weighing just 136 grams. It's easy to hide in the palm of your hand, or bring in a pocket, and is built for durability.
Good battery life
The 1600 mAh battery has a 30 to 40-minute run time, enough for six to eight four-minute sessions, depending on the temperature used. Most vaporizers in this size can only be used for three to four sessions before needing a recharge, but the Wolkenkraft FX Mini can be used for a lot longer than that!
30-second heat-up time
The Wolkenkraft FX Mini is ready to vape in just 25 to 30 seconds, depending on the temperature used and the battery level. Once it's ready, you can draw in vapour continuously for four minutes, until the session timer expires (extendable by pushing the power button). This means you can have a quick session anywhere, or even use it for one quick hit and then put it back in your pocket.
Easy to use buttons
With no learning curve, the Wolkenkraft FX Mini is the perfect vape to pass around the room, or relax with by yourself. It has three buttons that work like you think they should - turn it on with three clicks of the big button, pick your favourite temperature from 160 to 221°C with the other two buttons, and wait for 25 seconds. It doesn't get any easier than that!
Bright OLED-display
The Wolkenkraft FX Mini has been equipped with a large, bright and crystal-clear OLED display that shows you the battery charge level, the set temperature, the current temperature and the session timer. A session goes for 240 seconds (4 minutes) after which the FX Mini will shut down automatically. Simply press the power button 5 times again to turn it back on and start another session.
Quality components
The parts of the Wolkenkraft FX Mini coming in contact with your herbs and vapour are carefully selected for maximum purity and flavour. The chamber is made of titanium which makes it easy to clean and can hold up to 0.2 grams of dry herb. To draw in the vapour you use the extendable mouthpiece that is made out of food-grade safe Pyrex glass.
Not only for herbs
If you want to enjoy concentrates such as oil and waxes with the Wolkenkraft FX Mini, all you have to do is use the included concentrate capsule. Start by adding your concentrate to the capsule, insert the capsule in the chamber and then attach the mouthpiece. You are now ready to vape concentrates!
Warranty
All Wolkenkraft FX Mini sold by MagicVaporizers, an authorised distributor of Wolkenkraft products, are authentic and backed by a 1-year warranty, restricted to normal use.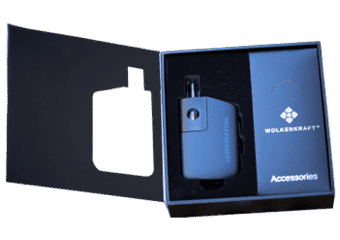 In the Box
Wolkenkraft FX Mini vaporizer
Quartz capsule for concentrates
Mouthpiece screen
Packing tool
Tweezers
Micro-USB charging cable
Cleaning brush
Cleaning wipes (2)
Instruction manual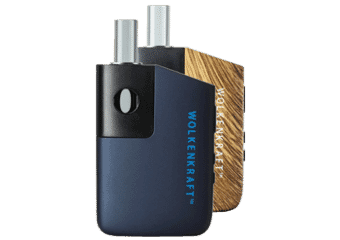 Specifications
More Information

| | |
| --- | --- |
| Size: | 5.1 × 2.5 × 7.6 cm |
| Weight: | 135 g |
| Heating: | Convection |
| Heat-up time: | 30 seconds |
| Power source: | Battery (1600 mAh) |
| Temperature: | 160°C to 221°C |
| Manufacturer: | Wolkenkraft |
| Warranty: | 1 year |
Wolkenkraft ÄRiS

Strong 2300 mAh battery
Innovative air path
Precise temperature from 160 to 221°C

Wolkenkraft ÄRiS Ultra

Precise temperature settings (100-220°C)
Convection heating in a titanium chamber
5 year warranty
Write your own review about Wolkenkraft FX Mini