Features
Newest UK version! (2023.11)
Exceptional performance
Super-fast heating time
Portable
Hugely impressive battery life
Full session control
Great tasting vapour
Easy to clean
Who is the Arizer Solo 2 for?
With its outstanding features & highly portable nature, the Arizer Solo 2 is the perfect vaporizer for those seeking top quality without compromising on convenience. Pocket-friendly, lightweight & featuring a vast array of cutting-edge features, this vaporizer is effortlessly versatile and modern.
Impressive Battery Life 
Offering incredible battery longevity up to twice as long as many other portable vaporizers, the Arizer Solo 2 can provide a full 3 hours of continuous vaping when fully charged. Guaranteed to withstand extended sessions without suddenly switching off and losing power, this vaporizer is perfect for both at-home or on-the-go use no matter the nature of your session. And if that wasn't enough, this device can be used whilst charging for maximum lifespan.
Compact & Discreet
Smaller than its predecessor, the Arizer Solo 2 will comfortably fit into the vast majority of medium-sized pockets or bags with ease. Its sleek appearance makes it superbly discreet when out and about, and its lightweight structure won't ever feel heavy or bulky whilst on-the-go.
Improved Air Flow & Flavour
Whilst previous models certainly haven't disappointed in terms of vapour taste, the Arizer Solo 2 takes performance to whole new levels of impressive. Equipped with a pure glass air path and advanced heating technology, all vapour produced will taste fantastic as well as feeling cool and comfortable at all times. Guaranteed never to be tainted by metallic tastes or toxins, you can be safe in the knowledge all vapour produced will be completely safe and smooth.
And even the strongest of inhalations will be suitably taken care of, as the Arizer Solo 2 boasts increased overall airflow than previous models. Containing heat jets directly within its inner bowl, consistent heat is guaranteed to be provided regardless of draw strength.
Full Digital Control 
With its handy digital display, this vaporizer is effortlessly simple to control – giving you the power to tailor each characteristic of every session you have. Not requiring you to download an app or navigate your way through complex instructions, the easy-to-use buttons (including a Menu option) on the device allow you to alter the temperature, automatic shut-off timer settings, brightness and notifications with zero hassle.
Fast Heating Time 
Regardless of which temperature setting you choose (between the fully adjustable range of 50°C - 220°C), the Arizer Solo 2 will fully heat in just 30 seconds! Perfect for a spontaneous session or quick hit throughout the day, you'll never be left waiting feeling frustrated at the length of time your vape takes to heat-up.
Warranty
All Arizer Solo 2 vaporizers sold by MagicVaporizers are completely authentic and backed by a lifetime warranty on the ceramic heating element, a 2-year warranty on workmanship and defects and a 1-year warranty on the battery.
User Manual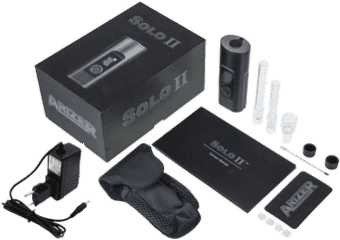 In the Box
Arizer Solo 2 vaporizer
Glass aroma dish
Carrying case
Stirring tool
Charger with UK plug
Glass tubes (90 mm & 110 mm)
Silicone tube covers (2)
Screens (4)
Instruction manual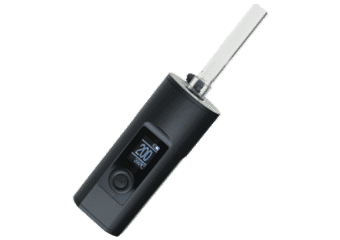 Specifications
More Information

| | |
| --- | --- |
| Size: | 4.3 × 2.5 × 11.3 cm |
| Weight: | 210 g |
| Heating: | Hybrid (Convection+Conduction) |
| Heat-up time: | 30 seconds |
| Power source: | Battery (3400 mAh) |
| Temperature: | 50°C to 220°C |
| Manufacturer: | Arizer |
| Warranty: | 2 years+ |
| Country of manufacture: | Canada |
Write your own review about Arizer Solo 2 UK