Features
Newest version! (2023.11)
Pocket sized
Fast heat-up time (15 sec.)
Accompanying smartphone app
Compatible with herbs & concentrates
Vibration feedback
Quick charging (1 hour)
10-year warranty
Who is the PAX 3 for?
If you're seeking a sleek yet discreet vaporizer that's both simple to use and incredibly powerful, the PAX 3 is a truly outstanding option. Packing a huge amount of performance in its convenient pocket-sized shape, this vape is hugely versatile and allows you to tailor every single aspect of your session with its useful accompanying app. Stylish and ideal to be taken on-the-go, the PAX 3 is guaranteed to impress.
Fast Heating Time 
Offering twice the amount of heating power as its predecessor, the PAX 3 is able to fully heat up in just 15 seconds dependent on the temperature setting selected. Providing efficient and reliable performance almost instantly, you'll never be left waiting for extended time to begin your session.
Discreet Size & Stylish Finish
Able to fit in the vast majority of pockets and slip discreetly into the palm of your hand, the PAX 3 is perfect for on-the-go use. Better still, its sleek matte finish provides a refreshing alternative to many other vapes on the market, further enhancing its discreet nature and leaving you safe in the knowledge you have one of the most stylish portably vaporizers currently available.
Vaporizes Herbs & Concentrates
When purchasing the complete kit, you'll receive a handy concentrate insert. Allowing you to effortlessly switch between herbs and concentrates at your leisure, the PAX 3 is able to expertly vaporize both without ever compromising on quality or flavour.
Automatic Sensors
The cutting-edge technology of the PAX 3 utilizes multiple motion sensors to enhance your entire vaporizing experience. Providing an instant vibration when the device has fully heated to your chosen temperature, you'll never be left aimlessly wondering whether your vape is ready to be used or not.
Better still, the built-in motion sensors only ensure maximum heat is produced when you bring the vape to your lips. Otherwise, it shuts itself off when sensing it's being set down. Able to save impressive amounts of battery life and only providing heat precisely when you need it, the PAX 3 is hailed for its user-focused nature.
Smartphone App
Allowing you to tailor your vaping session without actually touching the device itself, the PAX 3 accompanying app is a real stand-out feature. Available on both Apple and Android devices, you can use the app to directly set your PAX 3 to a precise temperature, change the LED display colour, and even lock the device to ensure it isn't switched on by accident. The use of this app is completely optional too, so you can still make the most out of your PAX 3 even if smartphone apps aren't really your scene – the choice is entirely yours!
Note: As of 17th November 2019, Apple has restricted vaping apps on App Store, so unless you previously have downloaded a copy of the PAX app you won't be able to control your PAX 3 from an iPhone.
Warranty
All PAX 3 vaporizers sold by MagicVaporizers, an authorised distributor of PAX Labs products, are authentic and backed by a 10-year warranty, restricted to normal use.
User Manual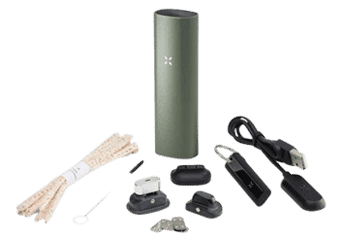 In the Box
PAX 3 vaporizer
Flat mouthpiece
Raised mouthpiece
Standard oven lid
Charging cable
Charging dock
Maintenance kit
Concentrate insert (Complete Kit)
Half-pack oven lid (Complete Kit)
Screens (3) (Complete Kit)
Multi-tool (Complete Kit)
Instruction manual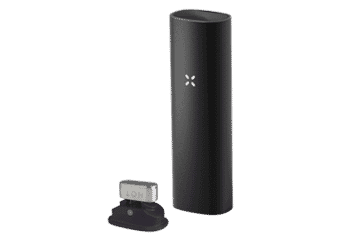 Specifications
More Information

| | |
| --- | --- |
| Size: | 2.1 × 1.9 × 9.8 cm |
| Weight: | 142 g |
| Heating: | Conduction |
| Heat-up time: | 20 seconds |
| Power source: | Battery (3500 mAh) |
| Temperature: | 182°C to 215°C |
| Manufacturer: | PAX |
| Warranty: | 10 years |
| Country of manufacture: | China |
PAX Mini

Easy to use
Heats up under 30 seconds
Ultra portable

PAX Plus

Discreet, durable and smart design
Adjustable chamber size (0.25 to 0.5 g)
For herbs and concentrates
Write your own review about PAX 3 Vaporizer