Features
Newest version (2023.11)
Colourful OLED screen
Large oven size (0.5 g)
Magnetic mouthpiece
Full temperature range (150°C to 230°C)
3000 mAh battery
USB-C charging
Durable materials
Comfortable
The Flowermate Stylo was designed to fit perfectly in your hand and offers maximal comfort, both when being used at home or when traveling. It's also made from durable materials which means that you'll have a long-lasting and stylish device for years to come.
Customiseable
Wether you're a beginner or vape herbs every day, you will appreciate how easy the Flowermate Stylo is to use. The magnetic mouthpiece provides easy attachment and detachment, and the colourful OLED screen gives you a clear view of the status of the device.
The spacious herb chamber, which can hold up to 0.5 g of dry herb, is great for those extended sessions. You can choose from a temperature range of 150° up to an impressive 230°C to match your herbs.
In case you forget the turn the Stylo off, a safe-sesh mode automatically shuts down the device when the session timer expires. You choose between 180 and 360 seconds of session time.
Convenient
You won't have to worry about cutting a vape session short with the Flowermate Stylo as it's equipped with a robust 3000 mAh battery. Enjoy up to 8 sessions without the need for frequent recharging!
When it's time to power up, Stylo's USB-C charging offers a rapid and efficient charging experience. Charging the battery from zero to full takes approximately 2 to 2.5 hours.
How to use the Flowermate Stylo
Remove the mouthpiece and load up to 0.5 g of ground dry herbs.
Reattach mouthpiece.
Click the main button quickly 5 times to power the unit on.
Use the arrow buttons to set the temperature between 150°C-230°C.
Click the main button quickly 3 times and adjust the session time with arrows. (Choose between 180-360 seconds.)
Press the main button for 2 seconds to start heating. Wait for a vibration indicating the set temperature is reached.
During heating, adjust the temperature by pressing the arrow buttons and confirming with the main button.
Press the main button for 2 seconds to restart heating, or hold to access the menu.
Click the main button quickly 5 times to power off.
Warranty
All Flowermate Stylo vaporizers sold by MagicVaporizers, an authorised distributor of Flowermate (by Smiss), are completely authentic and backed by a 2-year warranty on the device and a 1-year warranty on the battery.
User Manual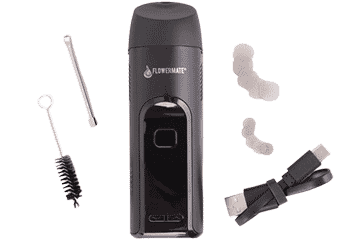 In the Box
Flowermate Stylo vaporizer
Stirring tool
Cleaning brush
Mouthpiece screens (5)
Chamber screens (5)
USB-C charging cable
Instruction manual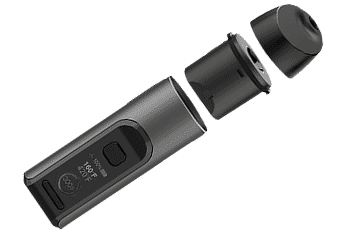 Specifications
More Information

| | |
| --- | --- |
| Size: | 5.0 × 2.3 × 12.8 cm |
| Weight: | 155 g |
| Heating: | Hybrid (Convection+Conduction) |
| Heat-up time: | 15 seconds |
| Power source: | Battery (3000 mAh) |
| Temperature: | 150° to 230°C |
| Manufacturer: | Flowermate |
| Warranty: | 2 years |
| Country of manufacture: | China |
Flowermate Aura

Pen-shaped and discreet
2 hours of battery life
Very easy to use

Flowermate V5 Nano

Digital temperature control up to 230°C
2500 mAh swappable battery
OLED screen and haptic feedback
Write your own review about Flowermate Stylo