Features
Newest version! (2023.11)
Solid, sturdy build
Portable
Includes 2 swappable batteries
Pure tasting vapour
Fast heat-up time
Full temperature control
Who is the Boundless Tera for?
If you're looking for a solidly reliable vaporizer you can truly count on for years to come, the Boundless Tera is a great option. It's portable and easy to fit in the palm of your hand, provides impressive power via convection heat and produces great tasting vapour every time. The size of the Boundless Tera is slightly larger than the smallest category of portable vapes, but the size has been put to good use as it's only rivalled by the even bigger Mighty vaporizer when it comes to power.
Full Convection System for Great Taste
Utilizing an entire convection heating system throughout its function, the Boundless Tera guarantees pure, tasty vapour every single time it's used. Featuring perfectly even heat distribution as well as a fully isolated heating path to keep all vapour separate from metallic electronics, a purer unspoiled flavour is produced. To achieve maximum results from this convection method, it's recommended to take longer, slower draws to generate the best possible vapour clouds.
Two Swappable Batteries 
Complete with not just one but two swappable 18650 2200 mAh batteries, you can effortlessly keep your sessions going for longer. With each fully-charged battery able to provide up to 60 minutes of continuous vaping time, simply swap-out your used battery for a new one if you require a longer session. The batteries can be charged either through the unit via USB or via a wall charger (not included).
Portable & Solid 
The Boundless Tera is easily able to fit into virtually any bag with ease and it only weighs around 300 grams. Thanks to its robust design, you'll never have to worry about your vaporizer becoming damaged during long journeys. Its measurements come to 4.0 × 5.5 × 11.0 cm, meaning this vape may be slightly too large to fit into a trouser or jacket pocket, but that it's still very comfortable to hold in the palm of your hand.
Fast Heating Time & Simple Temperature Control
Dependent on your chosen temperature, the Boundless Tera fully heats in just 20 – 30 seconds. Allowing you to begin an entire session at a moment's notice or simply enjoy a single hit when out and about, the speed of this vape's heat-up time is hugely beneficial. Better still, you have full control over the temperature, allowing you to select from an impressive range between 60°C and 220°C. It's digital LED display demonstrates current temperature readings & battery level at all times during use too, meaning you'll always be in-the-know at how your vaporizer is functioning.
Not only for herbs
But the Tera doesn't stop at dry herb—you can also use it to vape wax or oil at 260°C with the concentrate mode. Similarly to loading in dry herb, all you need to do is dab wax or drip oil onto the provided pad before activating the concentrate mode by pressing the power button 3 times.
If that's not enough customisation for you, Boundless also made sure you had 3 different magnetic mouthpieces to choose from. The plastic mouthpiece is ideal for convenience, swivelling into a folded position as needed. If clean, smooth vapour is most important to you, the glass mouthpiece is the ideal cooling air path.
Included Water Pipe Adapter
Guaranteed to increase the versatility of your vaping sessions, the Boundless Tera comes with a handy WPA. Allowing you to easy use it with virtually any 1, 1.4 or 1.8 cm glass connection, this vaporizer is conveniently compatible with a huge range of different-sized glassware items.
Warranty
All Boundless Tera vaporizers sold by MagicVaporizers, an authorised distributor of Boundless Vapes Technology, are completely authentic and backed by a 2-year warranty.
User Manual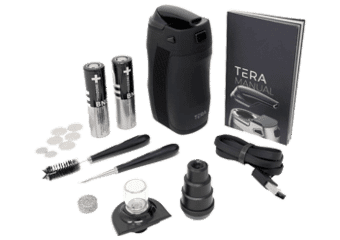 In the Box
Boundless Tera vaporizer
Batteries (2)
Glass mouthpiece
Plastic mouthpiece
Water pipe adapter
Concentrate pad
Cleaning brush
USB charger
Chamber screens (5)
Mouthpiece screens (2)
Instruction manual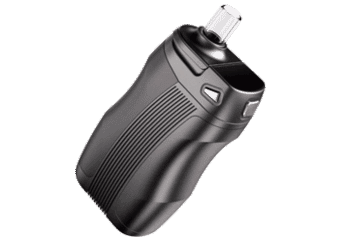 Specifications
More Information

| | |
| --- | --- |
| Size: | 4.0 × 5.5 × 11.0 cm |
| Weight: | 279 g |
| Heating: | Convection |
| Heat-up time: | 35 seconds |
| Power source: | Batteries (2 × 2500 mAh) |
| Temperature: | 60°C to 220°C and 260°C |
| Manufacturer: | Boundless |
| Warranty: | 2 years |
| Country of manufacture: | China |
Write your own review about Boundless Tera V3