Features
Newest version! (2023.11)
Precise temperature adjustment
Bong-style bubbler attachment
High performance battery
Airflow control
Pass-through charging technology
Lightweight, compact size
Who is the FocusVape Pro S for? 
With its powerful features and lightweight design, the FocusVape Pro S is the perfect choice if you're looking for more than many standard portable vapes can provide. Offering incredibly precise temperature adjustment and customisable airflow, you have full power over the smoothness and density of the vapour you inhale. Allowing you to have complete control over your entire vaping experience, this Premium version of the FocusVape Pro S comes equipped with a unique bubbler attachment to replicate the cooling feel and sound of a bong.
Fully Customisable
The FocusVape Pro S allows you to customise both the consistency and flavour of your vapour. By matching how thorough you have ground your herbs, you can easily adjust the heat to personalise the strength of flavour you experience. Better still, this vaporizer boasts cutting-edge airflow control that monitors precisely how much air is drawn into the chamber and combined with the herb vapour. By altering this function, you can effortlessly customise the density of the vapour clouds you experience for a truly personalised session every time.
Precise Temperature Control
Unlike many other vaporizers that simply offer pre-set temperatures for you to choose from, you have total control over the degree of heat you experience. Providing a temperature range of 80°C to 240°C, you can select any degree within this bracket without compromising on performance or heat-up time.
Impressive Performance
Weighing just 180 g and portable, it would make sense to assume the FocusVape Pro S may not provide the degree of high performance you may be looking for. However, due to the impressively high-grade materials and technology used to create this vape, the isolated air path, triple filtration system and deep combustion-free chamber guarantee superb performance and great taste with every draw.
High Capacity Battery
The FocusVape Pro S is equipped with one of the highest capacity batteries found on the portable vape market. Complete with a built-in 3200 mAh 18650 battery, you're guaranteed to experience long sessions every time. And as this battery is replaceable, you can easily switch it out for a fully-charged model if you find your session has lasted longer than expected. Or alternatively, the innovative pass-through technology of the FocusVape Pro S allows you to use the device while it's being charged! Superbly flexible and adaptable, this vaporizer won't let you down.
Premium Bubbler Attachment 
You'll receive a bong-style bubbler attachment as part of the FocusVape Pro S Premium kit, providing a whole new vaping sensation for you to experience. Specifically designed and included to replicate the bubbling sound, taste and cooling sensation of a bong, this attachment is super easy to attach and use. Simply fill with water, snap onto the device and you're good to go!
Warranty
All FocusVape Pro S Premium vaporizers sold by MagicVaporizers are completely authentic and backed by a 1-year warranty.
User Manual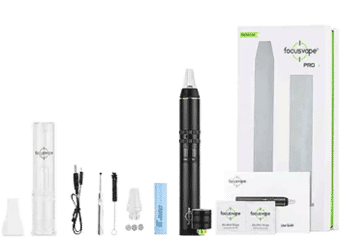 In the Box
FocusVape Pro S vaporizer
Bubbler
3200 mAh battery
Micro USB charging cable
Extra glass mouthpiece
Packing tool
Cleaning brush
Screens (3)
Instruction manual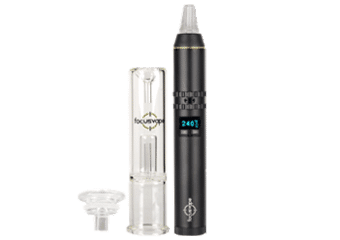 Specifications
More Information

| | |
| --- | --- |
| Size: | 2.3 × 2.3 × 17.2 cm |
| Weight: | 180 g |
| Heating: | Conduction |
| Heat-up time: | 35 seconds |
| Power source: | Battery (3200 mAh) |
| Temperature: | 80°C to 240°C |
| Manufacturer: | FocusVape |
| Warranty: | 1 year |
| Country of manufacture: | China |
Write your own review about FocusVape Pro S Premium