Features
Latest version (2023.11)
Stylish design with an anodized aluminium body
Integrated water filtration
Switchable heating chambers for herb and concentrate
Large temperature range (Herbs: 180°C - 235°C. Concentrate: 290°C - 410°C)
Magnetic USB charging port
1900 mAh removable and swappable battery
Easy access for cleaning
Who is the Hydrology 9 NX for?
The Hydrology 9 NX is a dual functionality vaporizer that's been designed to be both functional and fun to use. The new upgrades include the specific chambers for herb and concentrate, with every detail carefully thought out including perfectly fitting parts made of high-grade materials as well as magnetic features which makes making filling it and cleaning it easier.
If you're looking for an all-in-one vaporizer that can handle everything from dry herbs to concentrate, then the Hydrology 9 NX is what you need. With its built-in water filtration system and cooling capabilities it will provide smooth and tasty vapour for years.
Spill-proof design
The Hydrology 9 NX comes already assembled, though you'll need to unscrew the top piece in order for it to be filled up with water. The spill-proof design ensures that no water can enter to the electrical components.
Herb heating chamber
The Hydrology 9 NX's hybrid heating chamber for herbs makes sure your herbs are heated evenly and thoroughly. This dedicated chamber utilizes dual-layer heating technology which means combining convection with conduction heating to provide you with potent and great tasting vapour every time!
Concentrate chamber
The brand-new concentrate chamber features a revolutionary heating technology and can be used with either the quartz glass bowl or ceramic bowl depending on the desired temperature. This heating system guarantees efficient heat generation, while also covering all areas in the bowl without leaving any cold gaps.
Adjustable temperature dial
The Hydrology 9 NX features a sensor that recognizes the heating chamber and automatically adjusts the temperature levels to provide you with specific settings for both concentrates and herbs.
You change the desired temperature by turning the dial at the bottom of the Hydrology 9 NX. There are 6 different temperature options: 180°C to 235°C for herbs, and 290°C to 410°C for concentrates like oil or waxes.
The temperature level is represented by blue (lowest), light blue, yellow, purple, red, and white (highest). This colour-coded system helps to make it easy for you to know which temperature is set and makes it easy to adjust without having to look at a display.
The Hydrology 9 NX will remain at the set temperature for two minutes before switching to standby and then stay standby until it's shut down or shuts off automatically after 10 minutes.
Swappable battery
Another upgrade from the original Hydrology 9 is the battery that is both more powerful (1900 mAh) and can be swapped out. With a replaceable battery, you can extend the life of your device by purchasing new batteries instead. It is a good idea to buy an extra battery from the beginning if you plan to take your 9 NX on long trips without access to charging options.
During our testing, we found that a fully charged battery is capable of around 5 to 7 sessions of herb vaping, and around 10 to 12 sessions of concentrate vaping.
Magnetic USB charging port
In this new version of Hydrology 9, the charger has been updated and now features a magnetic connection which makes connecting easier than ever before. When plugged in to charge up your device it will flash red until full battery capacity is reached after about an hour from the start of the charging process. The light turns green when it's fully charged so you can know right away when it's ready!
Cleaning tools included
Cleaning your vaporizer is an easy task with the high-quality cleaning tools that come included. The brushes make it easy to deep clean all parts of this machine at any time, which will keep it working like it's suppose to for a long time!
Warranty
All Hydrology 9 NX vaporizers sold by MagicVaporizers, an authorised distributor of Cloudious 9, are completely authentic and comes with a 2-year warranty.
User Manual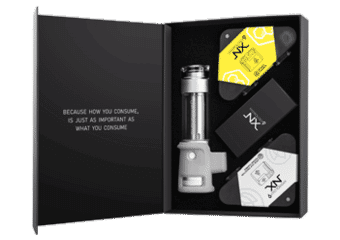 In the Box
Hydrology 9 NX vaporizer
Silicone cover
Magnetic charging kit
Herb heating chamber
Concentrate heating chamber
Quartz glass bowl
Ceramic bowl
Magnetic mouthpiece cover
Stirring tools
Cleaning tools
Instruction manual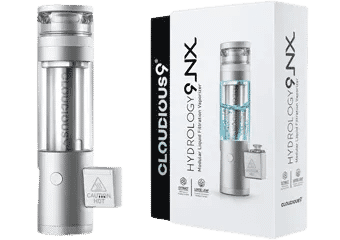 Specifications
More Information

| | |
| --- | --- |
| Size: | 4.5 × 4.5 × 17.5 cm |
| Weight: | 413 g |
| Heating: | Hybrid (Convection+Conduction) |
| Heat-up time: | 30 seconds |
| Power source: | Battery (1900 mAh) |
| Temperature: | Herbs: 180°C - 235°C / Concentrate: 290°C - 410°C |
| Manufacturer: | Cloudious 9 |
| Warranty: | 2 years |
| Country of manufacture: | China |
Write your own review about Hydrology 9 NX